Tag Archive | Righteousness
Sing to the Lord a new song, for he has done marvelous things; his right hand and his holy arm have worked salvation for him. The Lord has made his salvation known and revealed his righteousness to the nations. He has remembered his love and his faithfulness to Israel; all the ends of the earth have seen the salvation of God.

Shout for joy to the Lord, all the earth, burst into jubilant song with music; make music to the Lord with the harp, with the harp and the sound of singing, with trumpets and the blast of the ram's horn— shout for joy before the Lord, the King.

Let the sea resound, and everything in it, the world, and all who live in it. Let the rivers clap their hands, let the mountains sing together for joy; let them sing before the Lord, for he comes to judge the earth. He will judge the world in righteousness and the people with equity" (Psalm 98).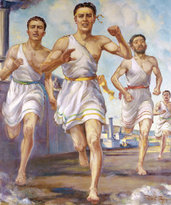 "Blessed are those who hunger and thirst for righteousness, for they will be filled" (Matthew 5:6).
As you navigate your Christian journey, you'll face trial and tribulation; partly because you love Jesus and partly because the enemy is upset that he has lost a prized possession. He will use every trick in the book to win you back, and if you are not careful, you will be right back where you had started—living in sin.
It is very easy to get distracted in today's world. Lifestyles are presented in magazines and on television that seem so appealing. And the enemy will entice you with "the good life"—money, cars, clothes; glitz and glamour. But if you know who you are and what is your purpose in Christ, the tempting pursuit of such things will not attract or entice you.
However, as you press on toward the goal for the prize of the upward call of God in Christ Jesus. You'll need fuel to sustain you on your journey. That fuel can only come from your inner hunger and thirst after the righteousness of God. The more resolute you are in your quest for the prize, the more you'll seek to know Him .
Your daily hunger after God brings great joy to His heart. He celebrates your every step of obedience to His Word, your every response of faith to His leading, and your every expression of wonder for His ways with you. He delights in your pursuit to know Him more, in your desires to enjoy Him more, and in your longings to love Him more.
As you hunger after Him, you will find that His banqueting table is always full, that His portions are more than generous, and that His hospitality is beyond compare.
To hunger after Him means that you will never go away empty or dissatisfied. In Him are a thousand delights, a limitless supply of eternal joys, and an endless amount of spiritual blessings.
Beloved brothers and sisters, I hope when everything has been said and done, you will say with confidence, as the apostle Paul did:
"I have fought the good fight, I have finished the race, and I have kept the faith. Now there is in store for me the crown of righteousness, which the Lord, the righteous Judge, will award to me on that day—and not only to me, but also to all who have longed for His appearing" (2 Timothy 4:7-8)
Related articles
Every believer goes through a period when you feel the need to recommit yourself to Jesus Christ– not because you have drifted away from the faith, but because you have recognized the need to reach higher heights and deeper depths in the Spirit.
Almost everybody in today's world owns a navigation system. And we all know when that thing is getting ready to change direction–it prompts you with the words, "re-calculating, re-calculating". That is similar to what your spiritual navigator does. He prompts you when you have lost your sense of purpose, and are no longer walking in the Spirit of God.
You see folks, it is the Spirit who directs your footsteps, your thoughts and ultimately your entire being. Romans 8:9 states: But ye are not in the flesh, but in the Spirit, if the Spirit of God dwelleth in you. Now if any man hath not the Spirit of Christ, he is not his. Paul is clearly telling you that the Spirit of God does not dwelleth in you at all times. Therefore, if the spirit of God is not dwelling in you, it is time to recommit and renew your covenant with God.
Will you join me in oneness of Spirit and recommit your life to God today?
Just as I am, without one plea,
But that Thy blood was shed for me,
And that Thou bidst me come to Thee,
O Lamb of God, I come, I come.
Just as I am, and waiting not
To rid my soul of one dark blot,
To Thee whose blood can cleanse each spot,
O Lamb of God, I come, I come.
Just as I am, though tossed about
With many a conflict, many a doubt,
Fightings and fears within, without,
O Lamb of God, I come, I come.
Just as I am, poor, wretched, blind;
Sight, riches, healing of the mind,
Yea, all I need in Thee to find,
O Lamb of God, I come, I come.
Just as I am, Thou wilt receive,
Wilt welcome, pardon, cleanse, relieve;
Because Thy promise I believe,
O Lamb of God, I come, I come.
Just as I am, Thy love unknown
Hath broken every barrier down;
Now, to be Thine, yea, Thine alone,
O Lamb of God, I come, I come.
Just as I am, of that free love
The breadth, length, depth, and height to prove,
Here for a season, then above,
O Lamb of God, I come, I come!
Related articles